Paete, my beloved hometown sandwiched between the slopes of the Sierra Madre mountain range and the moribund Laguna de Bay, is the home of world-renowned people famous for woodcarvings,
ice and vegetable carvings
,
sweet lanzones
and
papier mache
.
This pride of place of mine got a beating when I got hold of Manila Bulletin's September 29, 2007 (Saturday) issue that contained the Commission on Audit's annual report of Regions 3 and 4 was published.
Look at what I've found: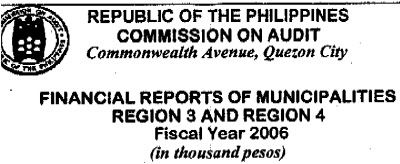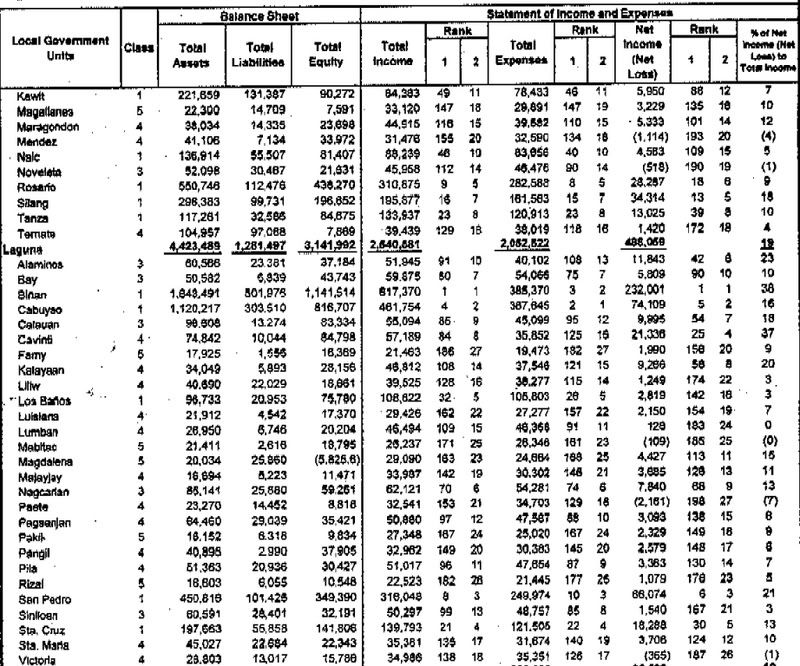 In a nutshell, Paete ranked 27th out of 27 towns in Laguna and the 198th of the 200 towns in Region 4 in terms of income, or in this case, the lack thereof, owing to a net loss recorded in 2006,
The
accountant's report
trumpeted by the ruling party during the recent elections showed a rosy picture of Paete's financial statement but didn't tally with the audited report's negative income statement.
Did Paete become too reliant on IRA and dole-outs for funding? Did the town spend more than what it can earn that led to borrowing funds to plug the deficit? What happened to projects like the Paete Foundation book, already paid P260,000.00 tied with the "world class tourism brochure," that still has to see the light of day after two years? Just three of the gazillion questions that need answers.
I believe the people of Paete need an explanation of this discrepancy to get a more detailed picture, besides the reasons on why the town got mired in debt.
Does this simply confirm that Paete's coffers are simply-- in the red?
UPDATE:
On the Audit process, an initial audit report, sometimes called Advance Audit Report (AAR), is furnished to the Auditee (in this case Paete officials) by the Auditor (in this case COA), then a meeting will be called by the Auditee and Auditor where the Auditor will explain the findings to the Auditee.
The Auditee has the chance to formally contest the report findings, submit additional documents to support the claim or explain their side on the report.
After the formal submission of the official reply by the Auditee, the Auditor will prepare the final report with comments on the various findings.
The Auditee can't just claim they don't know why the Auditor included certain findings and audit exceptions without giving a reason and asking for an explanation from the Auditee.
The final report of the Commission on Audit is the one published in Manila Bulletin and posted on their website.